Home
Main content starts here, tab to start navigating
Welcome to Wayfare Tavern
Way'fare' – v. To journey; to travel; to go to and fro. n. The act of journeying; travel; passage.
Slide 1 of 7
Slide 2 of 7
Slide 3 of 7
Slide 4 of 7
Slide 5 of 7
Slide 6 of 7
Slide 7 of 7
Wayfare Tavern is a timeless, lively San Francisco Restaurant featuring authentic American dishes inspired by local cuisine at the turn of the 20th century.
We use the best ingredients and provide a great atmosphere.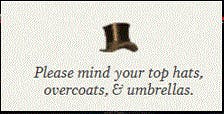 RESERVATIONS ARE ENCOURAGED AND WALK-INS ARE WELCOME
BOOK A RESERVATION BELOW OR CALL US AT 415.772.9060.
For parties of 8 or larger, please visit our PRIVATE DINING page or email EVENTS@WAYFARETAVERN.COM