Main content starts here, tab to start navigating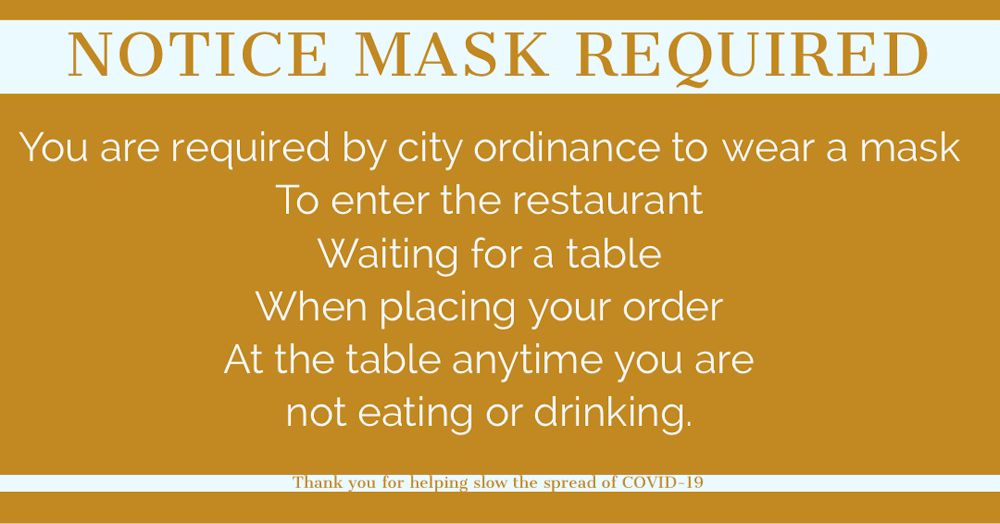 Brunch Items are available Saturdays & Sundays until 3pm - The full LUNCH menu is also available during this time.
Brunch Specials
available Saturday and Sunday until 3PM
BACON WRAPPED SCALLOPS

creamy grits, bell peppers, baby spinach

$16

ASARAGUS EGGS FLORENTINE

wilted arugula, oven dried tomatoes, bearnaise sauce

$21

BRIOCHE FRENCH TOAST

strawberry compote, lemon butter, maple syrup

$18

FRIED CHICKEN AND WAFFLES

hunter's gravy, maple syrup

$24
Wayfare Brunch Cocktails
These offerings are available as an addition to our full cocktail and wine menus.
Bacon Bloody Mary

Bacon Infused Absolut Elyx vodka, tomato, lemon, harissa-salt rim, bacon bits. Vegetarian version available and can be made spicy

$13

Peach Spritzer

Ketel One Botanicals Peach & Orange Blossom, Green Chartreuse, Prosecco, peach, orange, thyme

$13

Grapefruit Spritzer

Ketel One Botanicals Grapefruit & Rose, Aperitivo Select, Rosé wine, grapefruit, lemon, club soda

$13

The Portolá Spirit

Sipsmith gin, Fever Tree tonic water, rhubarb bitters, juniper, raspberries

$13
Slide 1 of 4
Slide 2 of 4
Slide 3 of 4
Slide 4 of 4
RAW BAR
Baja Kumamoto

Raised in bags attached to longlines in a bay opening to the Pacific Ocean, resulting in by far the saltiest Kumamoto. Water quality is pristine. Served with strawberry pomegranate mignonette.

Half Dozen $25

Dozen $45

Saint Simon

From Shippagan, New Brunswick. A one-of-a-kind oyster with an amazingly dynamic flavor. Wonderful briny start, with a sweet, buttery finish. Served with strawberry pomegranate mignonette

Half Dozen $25

Dozen $45

Shrimp Cocktail

cocktail sauce, lemon

$25

Shellfish Platter

Alaskan King Crab - Half Pound, Shrimp Cocktail - 8 Piece, Kumamoto Oysters - Half Dozen, Saint Simon Oysters - Half Dozen.

$130
Wayfare Tavern adds a 5.5% surcharge to assist in complying with San Francisco Mandates.
Consuming raw or undercooked meats, poultry, seafood, shellfish, or eggs may increase your risk to foodborne illness, especially if you have a medical condition
Starters
ENGLISH PEA SOUP

mint hummus, pickled baby carrots, parmesan crisp

$12

BUTTER LETTUCE SALAD

avocado, navel oranges, red radish, green goddess dressing

$15

CAESAR SALAD

romaine, sourdough croutons, grated pecorino, creamy caesar dressing

$15

Salad Additions

Grilled Chicken $10

Fried Chicken $12

King Salmon $14

"COBB" DEVILED EGGS

sun dried tomato, Bacon, Avocado, blue cheese, chives, harissa

$14

BURRATA TOAST

confit cherry tomatoes, asparagus, smoked balsamic vinaigrette, grilled country bread

$17

FRIED GREEN TOMATOES

chopped celery slaw, crawfish piccata

$15

PRIME BEEF TARTARE

hen egg yolk, dijonnaise, fried capers, crispy shallots, house -made potato chips

$18

PORK SPARE RIBS

sesame soy barbeque sauce, furikake, scallions

$16
Lunch Specials Monday-Friday 11:30am-3:00pm
FRIED CHICKEN SANDWICH

buttermilk brined chicken, house-made pickles, green apple & fennel slaw, harissa aioli

$16

TURKEY CLUB WRAP

spinach flour tortilla, sun dried tomato, applewood bacon, romaine lettuce avocado aioli

$16
Entrées
CITY SALAD

Granny Smith apple, wheat berry, red quinoa, blueberry, pickled red onion, mustard vinaigrette | For every City Salad sold Wayfare Tavern will donate $1 to SF Marin Food Bank

$19

PASTA FARFALLE PRIMA VERA

asparagus, english peas, cherry tomatoes, lemon pepper

$26

PRINCE EDWARD ISLAND MUSSELS

Andouille sausage, Brentwood corn, marble potatoes, Cajun broth

$26

AKAROA KING SALMON

toasted orzo, corn, zucchini, pepitas, romesco sauce

$31

ORGANIC FRIED CHICKEN

(best-fried chicken in America list, F&W magazine) buttermilk brine, roasted garlic, crisp herbs, lemon

$30

All White Upgrade $5

TAVERN BURGER

proprietary grind, Marin brie, red onion marmalade, smoked bacon, brioche bun

$23

add sunny side up egg $2

add avocado $2

ROASTED HERITAGE PORK CHOP

eggplant baba ganoush, harissa potatoes, baby peppers, parsley oil

$38
Sides
BAKED MACARONI & CHEESE

smoked olive oil, chives

$11

CRISPY DELTA ASPARAGUS

capers, lemon, toasted almond cream

$11

SAUTEED GREEN BEANS

Chipotle mayo, pickled red onion, herbed breadcrumbs

$11

BURRATA WHIPPED POTATOES

olive oil, chives

$11
Wayfare Tavern adds a 5.5% surcharge to assist in complying with San Francisco Mandates.
Consuming raw or undercooked meats, poultry, seafood, shellfish, or eggs may increase your risk to foodborne illness, especially if you have a medical condition
Starters
ENGLISH PEA SOUP

mint hummus, pickled baby carrots, parmesan crisp

$12

BUTTER LETTUCE SALAD

avocado, navel oranges, red radish, green goddess dressing

$15

CAESAR SALAD

Romaine, sourdough croutons, grated pecorino, creamy Caesar dressing

$15

Salad Additions

Grilled Chicken $10

Fried Chicken $10

King Salmon $15

"COBB" DEVILED EGGS

sun dried tomato, bacon, avocado, blue cheese, chives, harissa

$14

BURRATA TOAST

confit cherry tomatoes, asparagus, smoked balsamic vinaigrette, grilled country bread

$17

FRIED GREEN TOMATOES

chopped celery slaw, crawfish piccata

$15

PRIME BEEF TARTARE

hen egg yolk, dijonnaise, fried capers, crispy shallots, house -made potato chips

$18

BBQ PORK SPARE RIBS

sesame soy barbeque sauce, furikake, scallions

$16
DESSERT
HOUSE-MADE DOUGHNUTS

streusel glaze, whipped creme fraiche, dipping suace

$11

NEW YORK CHEESECAKE

raspberry compote

$11

FEILD STRAWBERRY CAKE

creme cheese frosting

$11
Entrées
CITY SALAD

Granny Smith apple, wheat berry, red quinoa, blueberry, pickled red onion, mustard vinaigrette | For every City Salad sold Wayfare Tavern will donate $1 to SF Marin Food Bank

$19

ORGANIC FRIED CHICKEN

(best-fried chicken in America list, F&W magazine) buttermilk brine, roasted garlic, crisp herbs, lemon

$30

WHITE MEAT ONLY $5

PASTA FARFALLE PRIMA VERA

asparagus, english peas, cherry tomatoes, lemon pepper

$26

AKAROA KING SALMON

toasted orzo, corn, zucchini, pepitas, romesco sauce

$31

PRINCE EDWARD ISLAND MUSSELS

Andouille sausage, Brentwood corn, marble potatoes, Cajun broth

$26

TAVERN BURGER

Proprietary grind, Marin brie, red onion marmalade, smoked bacon, brioche bun

$23

add sunny side up egg $2

add avocado $2

ROASTED HERITAGE PORK CHOP

eggplant baba ganoush, harissa potatoes, baby peppers, parsley oil

$38
Sides
CRISPY ASPARAGUS

capers, lemon, toasted almond cream

$11

SAUTEED GREEN BEANS

chipotle mayo, pickled red onions, herbed breadcrumbs

$11

BAKED MACARONI & CHEESE

smoked olive oil, chives

$11

BURRATA WHIPPED POTATOES

olive oil, chives

$11
Desserts
$11
HOUSE-MADE DOUGHNUTS

streusel glaze, whipped creme fraiche, dipping suace

$11

Sandeman 20 year Tawny Port, Douro, Portugal NV $16

NEW YORK CHEESECAKE

raspberry compote

$11

Royal Tokaji Wine Co. "5 Puttonyos" Aszu, Hungary 2013 $12

FIELD STRAWBERRY CAKE

creme cheese frosting

$11

Navarro Late Harvest Riesling "Cluster Select", Anderson Valley, Mendocino 2013 $14
Barista Service
Equator Coffee & Rare Cargo Artisan Teas
Digestif
Amaro Montenegro

$8

Fernet Branca

$8

Cynar

$9

St. George Bruto Americano

$9

Amaro Nonino

$12

Chartreuse Green

$13
Wayfare Cocktails
FULL BAR OPTIONS AVAILABLE BY REQUEST
ROSE SANGRIA

Rosé wine, Flor de Caña 4 Yr rum, raspberries, strawberries, dill, mint.

24oz $27

16oz $17

RED SANGRIA

Red wine, Flor de cana 4Yr rum, blueberry-sage syrup, blueberries, sage, tarragon

24oz $27

16oz $17

SHAKESPEARE'S FLOWERS

Ketel One Vodka, Aperitivo Select, Peychaud bitters, Cardamom, Grapefruit, Lemon, Rose water

Bottled Cocktail (serves 4) $42

Single Serving $14

CUCUMBER MULE

Ketel One Vodka, lime, cucumber, ginger beer

Bottled Cocktail (serves 4) $39

Single Serving $14

PORTOLA SPIRIT

Tanqueray gin, raspberry, lavender, rhubarb, tonic water

Single Serving $13

PRECITA EYES

Sipsmith gin, pisco, blueberries, lemon, orange, peach, tarragon.

Single Serving $14

DOLORES

El Jimador Tequila, Green Chartreuse, Grapefruit, Guava, Peychaud Bitters, Lime, Black Lava Salt.

Bottled Cocktail (serves 4) $39

Single Serving $14

WESTERN ADDITION

Mezcal, Rum, Velvet Falernum, lemon bitters, Firewater bitters

Single Serving $14

BENTLY RESERVE

Dickel Rye, Whistle Pig Piggyback rye, Amaro Montenegro, Benedictine, Lo-Fi sweet Vermouth, St Elizabeth Allspice Dram, Reagan's orange bitters, Fee Brothers Walnut Bitters.

Bottled Cocktail (serves 4) $42

Single serving $14

BURR MANSION

Eagle Rare 10Yr Wayfare Tavern Private Barrel, Legent Bourbon, Amaro di Angostura, ginger bitters, lemon, cider.

Single Serving $14

WAYFARE IRISH COFFEE

Made with Sexton Irish Whiskey, Equator coffee, and orange whipped cream (also available to-go!)

$13
Sparkling
BENVOLIO PROSECCO NV Fruili, Italy

glass $9

Bottle $45

MEYER FONNÉ Crémant D'Alsace Brut Extra

glass $16

bottle $80

VEUVE CLICQUOT YELLOW LABEL BRUT NV

HALF BOTTLE

$68

ULTRAVIOLET SPARKLING ROSÉ NV California

glass $15

bottle $75

SCHRAMSBERG BLANC DE BLANC North Coast 2016

$86

DELAMOTTE BRUT NV

$92

LOUIS ROEDERER BRUT PREMIER NV

$110

LALLIER GRANDE RESERVE BRUT Champange NV

$136

VEUVE CLICQUOT YELLOW LABEL BRUT NV

$140

BOLLINGER BRUT 'SPECIAL CUVEE' Ay NV

$148
Sauvignon Blanc
DELTA California 2019

glass $10

bottle $45

ROMAIN REVERDY "FLORILEGE" Sancerre 2018

glass $17

bottle $76

JONES FAMILY Napa Valley 2015

$58

MAITRE DE CHAI "HERRON VINEYARD" Sonoma Mountain 2018

$68

MERRY EDWARDS Russian River Valley 2018

$70

ASHES AND DIAMONDS Napa Valley 2016

$75

SPOTTSWOODE Napa Valley 2017

$80

ROCHIOLI Russian River Valley 2018

$85
Chardonnay
FERRARI-CARANO Sonoma Coast 2017

glass $14

bottle $68

DUMOL "WESTER REACH" Russian River 2017

glass $22

bottle $100

OLIVIER LEFLAIVE "LES SETILLES" BOURGOGNE BLANC Burgundy 2019

$58

STAGS' LEAP WINE CELLARS "KARIA" Napa Valley 2016

$60

BREWER-CLIFTON Sta. Rita Hills 2017

$68

JORDAN Russian River Valley 2016

$70

CAKEBREAD Napa Valley 2018

$75

LEWIS CELLARS Napa Valley 2018

$84

DUMOL "ESTATE" Sonoma Coast 2014

$88

FAR NIENTE Napa Valley 2017

$90

FLOWERS Sonoma Coast 2016

$93
Interesting Whites & Rosé
CASINO MINE RANCH GRENACHE/MOURVEDRE ROSÉ Shenandoah Valley 2016

glass $12

bottle $54

FOOT OF THE BED VERMENTINO Lodi 2017

$40

CHATEAU STE. MICHELLE RIESLING "EROICA" Columbia, WA 2016

$46

LITTLE FRANCES SEMILLON "LUSCHINGER VINEYARD" Lake County 2015

$48

NIGL GRUNER VELTLINER "FREIHEIT" Kremstal, Austria 2018

$54

HOLUS BOLUS ROUSSANNE Santa Maria Valley 2017

$68

GROS VENTRE ROSE, California 2020

$60

CHATEAU D'ESCLANS "WHISPERING ANGEL" ROSE, Provence, France 2019

$66
Cabernet Sauvignon
CAMP Sonoma County 2018

glass $15

bottle $68

EHLERS ESTATE "PORTRAIT" Napa Valley 2016

glass $21

bottle $100

ENKIDU Sonoma County 2017

$48

TASSO AL GUADO "IL BRUCIATO" Toscano 2016

$52

BOLD WINE CO. Paso Robles 2017

$58

ARROWOOD Sonoma Estates 2016

$72

SPRING MOUNTAIN Napa Valley 2010

$84

TURNBULL Napa Valley 2017

$88

CLOS DU VAL Napa Valley 2015

$90

FAUST Napa Valley 2017

$95

JORDAN Alexander Valley 2015

$124

HEITZ CELLARS Napa Valley 2014

$132

STONY HILL Napa Valley 2013

$142

GHOST BLOCK Oakville, Napa Valley 2016

$150

NICKEL & NICKEL "SULLENGER VINEYARD" Napa Valley 2018

$188
Pinot Noir
BREA Santa Lucia Highlands

glass $14

bottle $63

SIDURI Willamette Valley 2018

glass $17

bottle $74

BOLD WINE CO. Monterey 2017

$54

FOLK MACHINE Central Coast 2017

$58

PATZ & HALL Sonoma Coast 2016

$62

BAKER LANE Sonoma Coast 2018

$66

TESSIER "SAVERIA" Santa Cruz Mountains 2017

$72

RÉGIS BOUVIER "EN MONTRE CUL" Bourgogne 2017

$74

HALE MARY Russian River Valley 2017

$78

MERRY EDWARDS Sonoma Coast 2018

$80

AUTEUR Sonoma Coast 2017

$88

PENNER-ASH Willamette Valley 2017

$90

VARNER "SPRING RIDGE HIDDEN BLOCK" Santa Cruz Mountains 2013

$96

DREW "VALENTI" Mendocino Ridge 2016

$98

RADIO COTEAU "LA NEBLINA" Sonoma Coast 2015

$106

LORING WINE CO. "GARYS' VINEYARD" SANTA LUCIA HIGHLANDS 2016

$110

BRUNO COLIN "VIEILLES VIGNES", Chassagne-Montrachet Rouge, Burgundy 2016

$116

LITTORAI "LES LARMES" Anderson Valley 2018

$125

ZENA CROWN "SUM" Eola-Amity Hills 2015

$150

KOSTA BROWNE Russian River Valley 2017

$220
Grenache, Syrah, Mourvedre
DAVID GIVAUDIN "LA BETE" Cotes du Rhone 2018

glass $13

bottle $58

SKYLARK "RED BELLY" North Coast 2015

$54

COPAIN "TOUS ENSEMBLE" | SYRAH Mendocino 2016

$60

CASINO MINE RANCH "SIMONE" | RHONE BLEND 2016

$68

DOMAINE LES PALLIERS "TERRASSE DU DIABLE" GIGONDAS 2017

$78

TRIBUTE TO GRACE | GRENACHE Santa Barbara Highlands 2017

$90

DOMAINE LIONEL FAURY | SYRAH Cote Rotie 2016

$125
Zinfandel
HENDRY 'HRW' Napa Valley 2018

glass $12

bottle $54

FROG'S LEAP Napa Valley 2017

$66

FRANK FAMILY Napa Valley 2016

$70

BIALE "BLACK CHICKEN" Napa Valley 2017

$95
Merlot
LITTLE FRANCES Sierra Foothills 2018

$44

FREEMARK ABBEY Napa Valley 2014

$54

LES CADRANS DE LASSEGUE St. Emilion 2015

$68

CAIN Cuvee NV14 Napa Valley 2015

$74
Cabernet Franc
ROBERT SINSKEY "POV" Napa Valley 2014

$85

LANG AND REED "214" Napa Valley 2014

$92
Interesting Reds
EMBRUIX DE VALL LLACH Priorat 2016

$56

HENDRY MALBEC "BLOCK 14" Napa Valley 2014

$62

MASSOLINO BARBERA D' ALBA 2018

$64

ENFIELD WINE CO. "PRETTY HORSES" TEMPRANILLO California 2017

$68

HERMANOS PECINA RIOJA "FINCA ISCORTA" 2010

$88

ALQUIMISTA CELLARS "VAN DER KAMP" PINOT MEUNIER Sonoma Valley 2016

$92

MT. BRAVE MALBEC MT. VEEDER Napa Valley 2014

$96

ETTORE GERMANO SERRALUNGA D'ALBA Barolo 2015

$98

MASTROJANNI BRUNELLO DI MONTALCINO 2012

$150

LUIGI PIRA MARGHERIA Barolo 2010

$175
Half Bottles
DELAMOTTE BLANC DE BLANCS, Champagne NV

$74

MARCO FELLUGA "MONGRIS" PINOT GRIGIO Collio DOC, Italy 2018

$32

JEAN-MARC BROCARD "SAINTE CLAIRE" Chablis, Burgundy 2019

$36

TYLER "DUNCAN FAMILY" CHARDONNAY Sta. Rita Hills, Santa Barbara 2018

$60

CHAPTER 24 "THE FIRE" PINOT NOIR Willamette Valley 2014

$68

RHYS "HORSESHOE VINEYARD" PINOT NOIR Santa Cruz Mountains 2013

$114

CROSSBARN BY PAUL HOBBS CABERNET SAUVIGNON Napa Valley 2016

$64
CELLAR MASTER'S RESERVE WINE LIST
SPARKLING
DOM PERIGNON BRUT, Champagne, France 2008

$295

LOUIS ROEDERER 'CRISTAL' Brut, Champagne France 2008

$500

PIERRE PETERS 'LES CHETILLONS' Cuvée Spéciale, Blanc des Blancs, Brut, Champagne, France 2012

$260

VILMART & CIE 'GRAND CELLIER' Brut, Champagne, France NV

$150

BILLECART-SALMON 'CUVEE ELIZABETH SALMON' Brut Rosé 2000

$475

RUINART Brut Rosé, Champagne, France NV

$160
WHITE
KESNER 'cHARLES HEINTZ' CHARDONNAY Sonoma Coast

$122

PETER MICHAEL 'MA BELLE FILLE' CHARDONNAY Sonoma 2015

$200

SHAFER 'RED SHOULDER RANCH' CHARDONNAY, Carneros 2017

Napa Valley

$118

COMTESSE DE CHERISEY 'LA GARENNE' 1er Cru, Puligny-Montrachet, Burgundy, France 2015

$182

LOUIS JADOT 'GENEVRIERES' 1er Cru, Meursault, Burgundy, France 2005

$228

PASCAL CLEMENT Meursault, Burgundy, France 2018

$144
RED
CERITAS 'PORTER-BASS' PINOT NOIR, Sonoma Coast 2017

$164

KOSTA BROWNE PINOT NOIR, Russian River Valley, Sonoma 2017

$220

FOXEN 'BLOCK 8' PINOT NOIR, Santa Maria Valley, Santa Barbara 2012

$125

RAEN 'ROYAL ST. ROBERT' PINOT NOIR Sonoma Coast 2016

$132

SINE QUA NON "THIS IS NOT AN EXIT" SYRAH, Sta. Rita Hills, Santa Barbara 2009

$480

RIDGE 'YORK CREEK' PETITE SIRAH, Napa Valley 1976

$360

FAVIA CERRO 'SUR' CABERNET FRANC BLEND, Napa Valley 2010

$240

SAXUM "'PADEREWSKI' ZINFANDEL BLEND Paso Robles 2011

$295

DAOU 'SOUL OF A LION' CABERNET SAUVIGNON Paso Robles 2016

$280

BOND 'MELBURY' CABERNET SAUVIGNON Napa Valley 2012

$580

SPOTTSWOODE 'LYNDENHURST' CABERNET SAUVIGNON St. Helena, Napa Valley 2016

$150

QUINTESSA CABERNET BLEND Rutherford, Napa Valley 2016

$320

ALDO CONTERNO 'CICALA' BAROLO Piedmont, Italy 1997

$325

DAL FORNO ROMANO VALPOLICELLA SUPERIORE Veneto, Italy 2011

$195

TENUTA SAN GUIDO 'SASSICAIA' BOLGHERI Tuscany, Italy

$422

VEGA SICILIA 'VALBUENA N0. 5' RIBERA DEL DUERO Spain 2012

$310

DOMAINE LA BARROCHE, CHATEAUNEUF-DU-PAPE, Rhone, France 2011

$160
Beers on Tap
sm / lg
GILMAN 'GREEN EYED DEVIL' AMERICAN LAGER

Berkeley, CA 5%ABV

$8

HARMONIC 'KILN 'EM ALL' ENGLISH PUB-STYLE ALE

San Francisco, CA 5.2%ABV

$8

STANDARD DEVIANT KOLSCH

San Francisco, CA 5.3%ABV

$8

HEADLANDS 'PT. BONITA' PILSNER

Mill Valley, CA 5.3% ABV

$8

BAREBOTTLE ROTATING PALE ALE

San Francisco, CA 5.5%ABV

$8

LAUGHING MONK BREWING 'EVENING VESPERS' BELGIAN-STYLE DUBBEL

San Francisco, CA 5.5% ABV

$8

FACTION ROTATING IPA

Alameda, CA 7.4%ABV

$8

FIELDWORK ROTATING DIPA

Berkeley, CA 8.2%ABV

$8
Bottled Beers
MASON ALEWORKS RESPETO MEXICAN-STYLE LAGER 16oz can

4.5% ABV

$8

TRUMER PILSNER 12oz bottle

4.9% ABV

$7

DRAKE'S 1500 PALE ALE 12oz bottle

5.5% ABV

$7

LOST ABBEY FARMHOUSE BELGIAN-STYLE LAGER 12oz bottle

5.8% ABV

$7