Main content starts here, tab to start navigating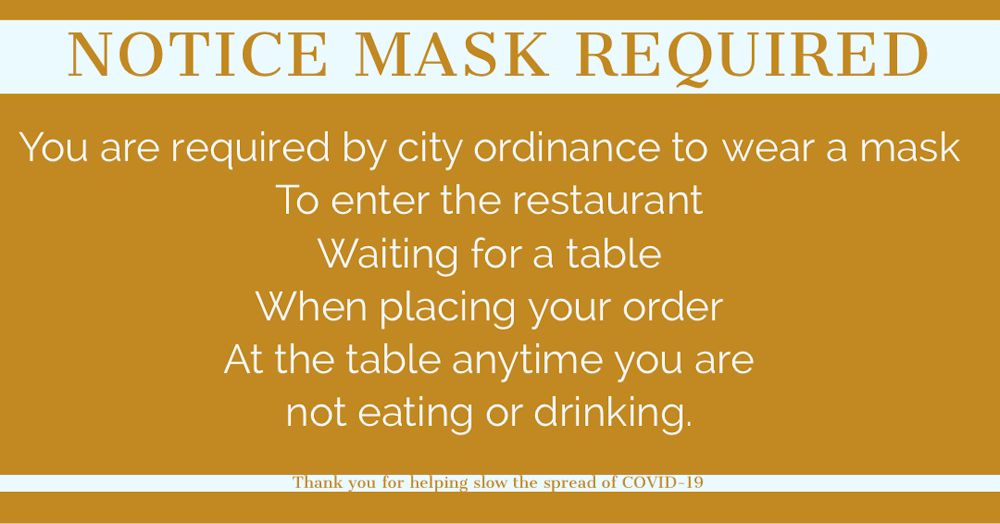 Wayfare Tavern adds a 5.5% surcharge to assist in complying with San Francisco Mandates.
Consuming raw or undercooked meats, poultry, seafood, shellfish, or eggs may increase your risk to foodborne illness, especially if you have a medical condition
Starters
CREAM OF BROCCOLI SOUP

smoked oil croutons, aged cheddar fondue

$12

ARUGULA & SHAVED FENNEL SALAD

candied walnuts , blue cheese, pickled grapes, honey dijon vinaigrette

$14

CAESAR SALAD

romaine, sourdough croutons, grated pecorino, creamy caesar dressing

$15

Salad Additions

Grilled Chicken $10

Fried Chicken $12

King Salmon $14

"COBB" DEVILED EGGS

sun dried tomato, Bacon, Avocado, blue cheese, chives, harissa

$14

BURRATA TOAST

roasted baby beets confit grapefruit , blood oranggastrique , grilled country bread

$17

PRIME BEEF TARTARE

hen egg yolk, dijonnaise, fried capers, crispy shallots, house -made potato chips

$18

PORK SPARE RIBS

sesame soy barbeque sauce, furikake, scallions

5 pieces $18

10 pieces $30

FOREST MUSHROOM FLATBREAD

caramelized onion, Marin Brie, charred radicchio, chimichurri

$15
Lunch Specials 11:30 am - 3:00 pm
FRIED CHICKEN SANDWICH

buttermilk brined chicken, house-made pickles, green apple & fennel slaw, harissa aioli

$16

TURKEY CLUB WRAP

spinach flour tortilla, sun dried tomato, applewood bacon, romaine lettuce avocado aioli

$16
Entrées
CITY SALAD

Granny Smith apple, wheat berry, red quinoa, blueberry, pickled red onion, mustard vinaigrette | For every City Salad sold Wayfare Tavern will donate $1 to SF Marin Food Bank

$18

PUMPKIN GNOCCHI

winter squash, kale, toasted hazelnuts, sage brown butter

$26

PRINCE EDWARD ISLAND MUSSELS

white wine shrimp "chowder" broth, charred country bread, fine herb butter

$26

AKAROA KING SALMON

french green lentils, roasted parsnip, quince, heirloom carrot veloute.

$29

ORGANIC FRIED CHICKEN

(best-fried chicken in America list, F&W magazine) buttermilk brine, roasted garlic, crisp herbs, lemon

$30

TAVERN BURGER

proprietary grind, Marin brie, red onion marmalade, smoked bacon, brioche bun

$23

add sunny side up egg $2

add avocado $2

BRAISED PORK SHANK

wilted Napa cabbage, bacon lardons, shitake mushroom, winter citrus gremolata

$36
Sides
Baked Macaroni & Cheese

smoked olive oil, chives

$11

Brussels Sprouts

bacon bread pudding, pomegranate aigre doux

$11

Broccolini

Furikake soy glaze, cashew butter

$11

Burrata Whipped Potatoes

olive oil, chives

$11
Wayfare Tavern adds a 5.5% surcharge to assist in complying with San Francisco Mandates.
Consuming raw or undercooked meats, poultry, seafood, shellfish, or eggs may increase your risk to foodborne illness, especially if you have a medical condition
Starters
ENGLISH PEA SOUP

mint hummus, pickled baby carrots, parmesan crisp

$12

BUTTER LETTUCE SALAD

avocado, navel oranges, red radish, green goddess dressing

$14

CAESAR SALAD

Romaine, sourdough croutons, grated pecorino, creamy Caesar dressing

$15

Salad Additions

Grilled Chicken $10

Fried Chicken $10

King Salmon $14

"COBB" DEVILED EGGS

Sun dried tomato, bacon, avocado, blue cheese, chives, harissa

$14

BURRATA TOAST

roasted baby beets confit grapefruit , blood orange gastrique , grilled country bread

$17

PRIME BEEF TARTARE

Hen egg yolk, dijonnaise, fried capers, crispy shallots, house -made potato chips

$18

BBQ PORK SPARE RIBS

sesame soy barbeque sauce, furikake, scallions

$18

FOREST MUSHROOM FLATBREAD

caramelized onion, Marin Brie, charred radicchio, chimichurri

$14
DESSERT
HOUSE-MADE DOUGHNUTS

streusel glaze, whipped creme fraiche, dipping suace

$11

PUMPKIN CHEESECAKE

bourbon caramel, toasted pecans

$11
Entrées
CITY SALAD

Granny Smith apple, wheat berry, red quinoa, blueberry, pickled red onion, mustard vinaigrette | For every City Salad sold Wayfare Tavern will donate $1 to SF Marin Food Bank

$18

PASTA FARFALLE PRIMA VERA

asparagus, english peas, cherry tomatoes, lemon pepper

$26

ORGANIC FRIED CHICKEN

(best-fried chicken in America list, F&W magazine) buttermilk brine, roasted garlic, crisp herbs, lemon

$30

+$5 WHITE MEAT ONLY $0

PRINCE EDWARD ISLAND MUSSELS

white wine shrimp "chowder" broth, charred country bread, fine herb butter

$26

AKAROA KING SALMON

toasted orzo, corn, zucchini, pepitas, romesco sauce

$29

TAVERN BURGER

Proprietary grind, Marin brie, red onion marmalade, smoked bacon, brioche bun

$23

add sunny side up egg $2

add avocado $2

ROASTED HERITAGE PORK CHOP

eggplant baba ganoush, harissa potatoes, baby peppers, parsley oil

$38
Sides
BAKED MACARONI & CHEESE

smoked olive oil, chives

$11

BROCCOLINI

Furikake soy glaze, cashew butter

$11

BRUSSELS SPROUTS

bacon bread pudding, pomegranate aigre doux

$11

BURRATA WHIPPED POTATOES

olive oil, chives

$11
Wayfare Cocktails
FULL BAR OPTIONS AVAILABLE BY REQUEST
SANGRIA

Red wine, Flor de cana 4Yr rum, blueberry-sage syrup, blueberries, sage, tarragon

24oz $27

16oz $15

SHAKESPEARE'S FLOWERS

Ketel One Vodka, Aperitivo Select, Peychaud bitters, Cardamom, Grapefruit, Lemon, Rose water

$14

CUCUMBER MULE

Ketel One Vodka, lime, cucumber, ginger beer

Bottled Cocktail (serves 4) $39

Single Serving $14

PHILOSOPHER'S WAY

Cardamom infused Sipsmith gin, Clear Creek Douglas Fir brandy, Dolin Blanc vermouth, Hella Bitters Ginger bitters, Reagan's Orange bitters, lemon.

Bottled Cocktail (serves 4) $39

Single Serving $14

DOLORES

El Jimador Tequila, Green Chartreuse, Grapefruit, Guava, Peychaud Bitters, Lime, Black Lava Salt.

Bottled Cocktail (serves 4) $39

Single Serving $14

VALENCIA

Bozal Ensamble mezcal, Gran Classico Bitter liqueur, Angostura bitters, Reagan's Orange bitters, Hellfire tincture.

Bottled Cocktail (serves 4) $39

Single Serving $14

BENTLY RESERVE

Dickel Rye, Whistle Pig Piggyback rye, Amaro Montenegro, Benedictine, Lo-Fi sweet Vermouth, St Elizabeth Allspice Dram, Reagan's orange bitters, Fee Brothers Walnut Bitters.

Bottled Cocktail (serves 4) $39

Single serving $14

THE EL MATADOR

Eagle Rare 10Yr Wayfare Tavern Private Barrel, Bozal Ensamble mezcal, Ancho Reyes liqueur, St. George Nola Coffee liqueur, Bitter Truth Chocolate bitters.

Single Serving $14

WAYFARE IRISH COFFEE

Made with Sexton Irish Whiskey, Equator coffee, and orange whipped cream

$13
Sparkling
BENVOLIO PROSECCO NV

glass $9

bottle $40

ULTRAVIOLET ROSÉ NV

glass $15

bottle $75

MEYER FONNÉ Crémant D'Alsace Brut Extra

glass $16

bottle $80
White & Rose
NIGL GRUNER VELTLINER FREIHEIT 2018

glass $12

bottle $54

DELTA SAUVIGNON BLANC 2018

glass $10

bottle $45

DOMAINE DE LA RAIMBAUDERIE SANCERRE

glass $15

bottle $68

FERRARI-CARANO CHARDONNAY Sonoma Coast 2017

glass $14

bottle $63

CASINO MINE RANCH GRENACHE/ MOURVEDRE ROSÉ 2016

glass $12

bottle $54
Reds
BREA PINOT NOIR 2017

glass $14

bottle $63

HENDRY ZINFANDEL 'HRW' NAPA VALLEY 2018

glass $12

bottle $54

DAVID GIVAUDAN COTES DU RHONE "LA BETE" 2018

glass $13

bottle $58

CAMP CABERNET SAUVIGNON 2018

glass $15

bottle $68

SIDURI PINOT NOIR WILLAMETTE VALLEY 2018

glass $17

bottle $74
DRAFT BEER
HARMONIC 'EL MERO MERO MEXICAN-STYLE LAGER

San Francisco, CA 5%ABV

$8

STANDARD DEVIANT KOLSCH

San Francisco, CA 5.3%ABV

$8

HEADLANDS 'PT. BONITA' PILSNER

Mill Valley, CA 5.3%ABV

$8

BAREBOTTLE ROTATING PALE ALE

San Francisco, CA 5.5%ABV

$8

SF BREWING 'ALCATRAZ' AMBER ALE

San Francisco, CA 5.9%ABV

$8

LAUGHING MONK BREWING 'EVENING VESPERS' BELGIAN-STYLE DUBBEL

San Francisco, CA 6.9%ABV

$8

FACTION ROTATING IPA

Alameda, CA 7.4%ABV

$8

FIELDWORK ROTATING DIPA

Berkeley, CA 8.2%ABV

$8
BOTTLED BEER
MASON ALEWORKS RESPETO MEXICAN-STYLE LAGER 16oz can

4.5% ABV

$8

TRUMER PILSNER 12oz bottle

4.9% ABV

$7

DRAKE'S 1500 PALE ALE 12oz bottle

5.5% ABV

$7

LOST ABBEY FARMHOUSE BELGIAN-STYLE LAGER 12oz bottle

5.8% ABV

$7
Sparkling
BENVOLIO PROSECCO NV Fruili, Italy

$40

MEYER FONNÉ Crémant D'Alsace Brut Extra

$75

VEUVE CLICQUOT YELLOW LABEL BRUT NV

HALF BOTTLE

$68

ULTRAVIOLET SPARKLING ROSÉ NV California

$75

SCHRAMSBERG BLANC DE BLANC North Coast 2016

$86

DELAMOTTE BRUT NV

$92

LOUIS ROEDERER BRUT PREMIER NV

$110

LALLIER GRANDE RESERVE BRUT Champange NV

$136

VEUVE CLICQUOT YELLOW LABEL BRUT NV

$140

BOLLINGER BRUT 'SPECIAL CUVEE' Ay NV

$148
Sauvignon Blanc
DELTA California 2019

$45

ROARK, Santa Barbara County 2018

$54

JONES FAMILY Napa Valley 2015

$58

VIGNOBLE DAUNY "LES CAILLOTTES" Sancerre 2018

$68

MERRY EDWARDS Russian River Valley 2017

$70

ASHES AND DIAMONDS Napa Valley 2016

$75

SPOTTSWOODE Napa Valley 2017

$80
Chardonnay
OLIVIER LEFLAIVE "LES SETILLES" BOURGOGNE BLANC Burgundy 2017

$58

STAGS' LEAP WINE CELLARS "KARIA" Napa Valley 2016

$60

FERRARI-CARANO Sonoma Coast 2017

$63

DOMAINE ROMAIN COLLET "LES PARGUES" Chablis 2017

$64

BREWER-CLIFTON Sta. Rita Hills 2017

$68

JORDAN Russian River Valley 2016

$70

CAKEBREAD Napa Valley 2018

$75

LEWIS CELLARS Napa Valley 2018

$84

DUMOL "ESTATE" Sonoma Coast 2014

$88

FAR NIENTE Napa Valley 2017

$90

FLOWERS Sonoma Coast 2016

$93
Interesting Whites & Rosé
CHATEAU STE. MICHELLE RIESLING "EROICA" Columbia, WA 2016

$46

LITTLE FRANCES SEMILLON "LUSCHINGER VINEYARD" Lake County 2015

$48

FOOT OF THE BED VERMENTINO Lodi 2017

$52

NIGL GRUNER VELTLINER "FREIHEIT" Kremstal, Austria 2018

$54

HOLUS BOLUS ROUSSANNE Santa Maria Valley 2017

$68

CASINO MINE RANCH GRENACHE/MOURVEDRE ROSÉ Shenandoah Valley 2016

$54

CLOS CIBONNE "TRADITION" TIBOUREN ROSÉ Cotes De Provence 2017

$62
Cabernet Sauvignon
ENKIDU Sonoma County 2017

$48

TASSO AL GUADO "IL BRUCIATO" Toscano 2016

$52

BOLD WINE CO. Paso Robles 2017

$58

CAMP Sonoma County 2018

$68

ARROWOOD Sonoma Estates 2016

$72

SPRING MOUNTAIN Napa Valley 2010

$84

TURNBULL Napa Valley 2017

$88

CLOS DU VAL Napa Valley 2015

$90

FAUST Napa Valley 2017

$95

JORDAN Alexander Valley 2015

$124

HEITZ CELLARS Napa Valley 2014

$132

STONY HILL Napa Valley 2013

$142

GHOST BLOCK Oakville, Napa Valley 2016

$150

NICKEL & NICKEL "SULLENGER VINEYARD" Napa Valley 2017

$188
Interesting Reds
EMBRUIX DE VALL LLACH Priorat 2016

$56

HENDRY MALBEC "BLOCK 14" Napa Valley 2014

$62

MASSOLINO BARBERA D' ALBA 2018

$64

ENFIELD WINE CO. "PRETTY HORSES" TEMPRANILLO California 2017

$68

HERMANOS PECINA RIOJA "FINCA ISCORTA" 2010

$88

ALQUIMISTA CELLARS "VAN DER KAMP" PINOT MEUNIER Sonoma Valley 2016

$92

MT. BRAVE MALBEC MT. VEEDER Napa Valley 2014

$96

ETTORE GERMANO SERRALUNGA D'ALBA Barolo 2015

$98

MASTROJANNI BRUNELLO DI MONTALCINO 2012

$150

LUIGI PIRA MARGHERIA Barolo 2010

$175
Pinot Noir
BOLD WINE CO. Monterey 2017

$54

FOLK MACHINE Central Coast 2017

$58

PATZ & HALL Sonoma Coast 2016

$62

BREA Santa Lucia Highlands

$63

BAKER LANE Sonoma Coast 2018

$66

TESSIER "SAVERIA" Santa Cruz Mountains 2017

$72

SIDURI Willamette Valley 2018

$74

HALE MARY Russian River Valley 2015

$78

THREE STICKS "ESTATE VINEYARD" Sonoma Coast 2016

$84

AUTEUR Sonoma Coast 2017

$88

PENNER-ASH Willamette Valley 2017

$90

FLOWERS Sonoma Coast 2017

$95

DREW "VALENTI" Mendocino Ridge 2016

$98

RADIO COTEAU "LA NEBLINA" Sonoma Coast 2015

$106

LORING WINE CO. "GARYS' VINEYARD" SANTA LUCIA HIGHLANDS 2016

$110

LITTORAI "LES LARMES" Anderson Valley 2018

$125

ZENA CROWN "SUM" Eola-Amity Hills 2015

$150

KOSTA BROWNE Russian River Valley 2017

$220
Grenache, Syrah, Mourvedre
SKYLARK "RED BELLY" North Coast 2015

$54

DAVID GIVAUDIN "LA BETE" Cotes du Rhone 2018

$58

COPAIN "TOUS ENSEMBLE" | SYRAH Mendocino 2016

$60

CASINO MINE RANCH "SIMONE" | RHONE BLEND 2016

$68

DOMAINE LES PALLIERS "TERRASSE DU DIABLE" GIGONDAS 2017

$78

TRIBUTE TO GRACE | GRENACHE Santa Barbara Highlands 2017

$90

DOMAINE LIONEL FAURY | SYRAH Cote Rotie 2016

$125
Zinfandel
HENDRY 'HRW' Napa Valley 2018

$54

FROG'S LEAP Napa Valley 2017

$66

FRANK FAMILY Napa Valley 2016

$70

BIALE "BLACK CHICKEN" Napa Valley 2017

$95
Merlot
LITTLE FRANCES Sierra Foothills 2018

$44

FREEMARK ABBEY Napa Valley 2014

$54

LES CADRANS DE LASSEGUE St. Emilion 2015

$68

CAIN Cuvee NV14 Napa Valley 2015

$74
Cabernet Franc
ROBERT SINSKEY "POV" Napa Valley 2014

$85

LANG AND REED "214" Napa Valley 2014

$92